Wooden Pallets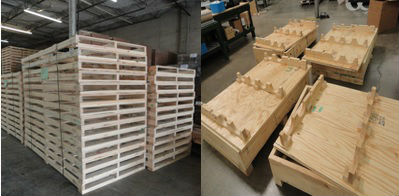 If you or your company is in need of shipment of a large item but you hesitate to crate it, then why not choose one of our wooden pallets? We provide the highest quality wooden pallets available all for a price that fits within your shipping budget. Our expert packagers and engineers have designed pallets that are strong enough to hold the heaviest of objects and to get them safely and soundly to their destination.
Included in your purchase of our woodenpallets is also our end-to-end shipping service. Our end-to-end shipping service includes loading, packaging, wrapping, shipping, and unloading your items. No matter where you plan on sending your wooden pallets, we can make sure that they arrive on time and in excellent condition.
We also offer shrink wrap services that protect your products from the journey ahead. Choose our wooden pallets if you expect only the best quality products from your shipping company.