Die Cut Foam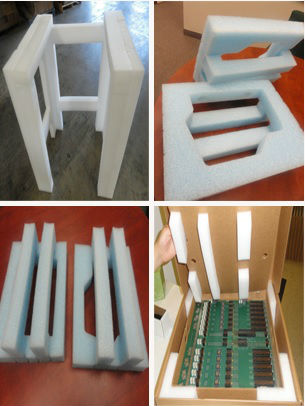 Crate manufacturer provides custom cut foam for a broad range of custom packing materials. We offer both open and closed cell configurations for various appliances and large oversized bulky items. Our highly trained engineers can work with you to create a custom die-cut foam that provides a solution for your most difficult packing challenge. From custom crate packing foam to thermal packaging, we can provide all of your packaging needs in one convenient location.
What are the benefits of die-cut foam?
It is 100% reusable
Decreases shipping costs with lightweight packaging materials
Completely customizable to fit and secure your toughest item
Protects products from damaging vibration
Locks and secures your products in place
Die-cut foam is dependable and strong
No matter where you need it, why you need it, or when you need it we are ready and willing to provide you with the best die-cut foam in the industry. Provide us with your exact specifications and we will create a customized set of die-cut foam that is consistent with the quality you have come to expect from us. 
We offer die-cut foam in Dallas, Fort Worth, Addison, Irving, Bedford, Richardson, Denton, Waco, Flowermound, Frisco, Grand Prairie, Arlington, Plano, Garland, Allen, Keller, Euless, McKinney, Carrollton, Tyler, East Texas, Austin, Sulphur Springs, Greenville, Waxahachie and surrounding cities.
For more information about our die-cut foam, please call us at 214.233.6619 or send us an email at info @ Cratesmanufacturer.com